EXCLUSIVELY IN THE VEDANTA QUARTER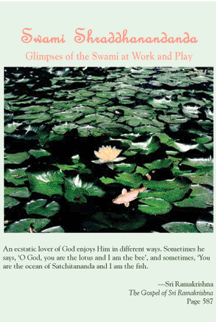 DVD: Swami Shraddhananda
An intimate portrait of a senior swami, filmed between 1990 and 1996. Recommended for devotees only.
BOOK: Interpreting Ramakrishna: Kali's Child Revisited offers both a spirited critique of Kali's Child as well as an in-depth examination of Ramakrishna scholarship over the course of the past century, identifying how Ramakrishna has been viewed according to the changing tenor of the times. Read more Book signed by co-author Pravrajika Vrajaprana (See Also Free Download Kali's Child Revisited below.)
BOOK: Remembering Sri Sarada Devi's Disciple: Swami Aseshananda As We Knew Him Reminiscences Compiled by Esther Warkov
---
FREE DOWNLOAD/AUDIO STREAM: Shankara's Crest Jewel of Discrimination, a series of classes given by Swami Prabhavananda, recorded live.
FREE DOWNLOAD/AUDIO STREAM: Mundaka Upanishad a series of classes given by Swami Prabhavananda, recorded live.
FREE VIDEO STREAMS: See VedantaVideos.com Videos of monastics and laypersons
VedantaWritings.com features freely shared articles and reviews including J.D. Salinger & Vedanta and Christopher Isherwood & Vedanta, articles from American Vedantist
From The Wall Street Journal, March 30, 2012

What Did J.D. Salinger, Leo Tolstoy, Nikola Tesla and Sarah Bernhardt Have in Common?

The surprising—and continuing—influence of Swami Vivekananda, the pied piper of the global yoga movement
By A. L. BARDACH
Also from the New York Times, October 02, 2011
Opinion: How Yoga Won the West
By ANN LOUISE BARDACH

More than a century ago, an Indian monk wowed Americans with his ideas.
"The Indian monk, born Narendranath Datta to an aristocratic Calcutta family, alighted in Chicago in 1893 in ochre robes and turban, with little money after a daunting two-month trek from Bombay. Notwithstanding the fact that he had spent the previous night sleeping in a boxcar, the young mystic made an electrifying appearance at the opening of the august Parliament of Religions that Sept. 11."
---
---
---

NEW: VINYL Edition*
The Original 1976 VINYL Recordings of Christopher Isherwood Reads selections from the Upanishads, as translated by Swami Prabhavananda and Frederick Manchester

A 2-Disc Set

Includes the Mundaka and Kena Upanishads, which are not included in the CD version.
---
*In conjunction with Vedanta Press